Belvue Fire Department
Fire Chief - Mike Jones
Asst. Fire Chief - James Horak
Members
Norman Stutzman
Eric Linnebur
Terry Hunninghake
Paul Zapp
Louis Jacas
A special thanks to all those companies which help and volunteer their time and resources for the emergency needs of ours and surrounding communities,
for us they include;
Nemaha County Coop
The Onyx Collection
Stutzman Cattle and Hay
Horak Repair
When we meet
We meet the 2nd Tuesday of every month at 7:00 p.m. at the Fire Dept. We encourage anyone interested in joining to attend the meeting.
Contact Info
Mike Jones
Fire Chief
Phone # 785-456-5588
email: rmjones747@gmail.com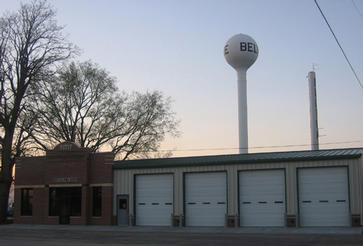 Fire Dept. History:
June 2, 1941 was the date when a joint fire department was organized by the City of Belvue and Belvue Township. This department is voluntary although one man was always hired to maintain the truck and one of the City Council members were always designated Fire Chief. Both the City and Township regulated the department.
Nowadays, with the new Fire Barn, the City and Fire department share sections of the building and assist each other in its upkeep.